ROAM Puffy Sandals Nudes Vegan Leather
Hurry, only 1 item left in stock!
These new slider sandals are beautifully made in an exceptional vegan leather.  They are meticulously created for a cool and sporty look. ROAM integrates a unique process by hand that incorporates memory foam into our uppers which creates extreme comfort and allows each of our shoes to mold to your feet.  They are backed in neoprene for added softness and  create our signature hug for your feet. 

The custom molded footbed provides both tremendous comfort and support. They are covered in black neoprene, for breathability and wicking keeping your feet comfortable and dry. 
The sole is made of a high-flex, durable, recycled tread which allow our sandals to move with your feet. 
Perfect for ROAMING anywhere....whether it is traveling around your city or a new one exploring, post-workout, to and from the office, school drop offs, or walking your dog...anywhere you'd want your feet to be fashionable, cool and comfortable.
R0AMs should fit snug on your feet, for a flop-free walk. ROAM uses U.S. footbeds, please find your size in the size chart, below the shoe images .
Shipping Information

Domestic Shipping
The shipping rate is $5.
Orders above $150 within the contiguous United States qualify for free shipping (does not include furniture).

International Shipping
We ship to over 150+ countries using Shopify Markets Pro & DHL Express. Once your international shipping address is entered, complete shipping fees will be shown.

Please see shipping policy for more information.
Returns information

Please view our refunds, return and exchanges policy.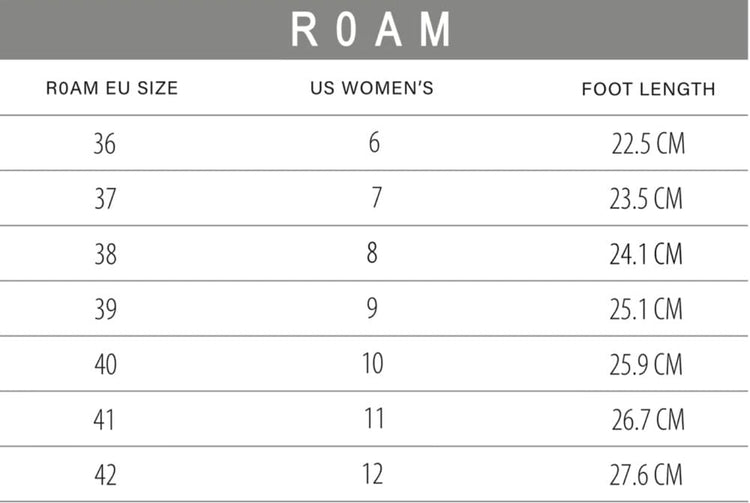 The CondeHouse Collection
Japandi Footwear Collection